Industrial Development. Before and After Revision
The sixth year of implementation of the State Program for Industrial and Innovative Development was rather fruitful: only during the period from January to September one fifth of the GDP's growth was achieved due to the Industrialisation Map projects. But will the year 2016 be the same? We shall keep in mind that currently actions of processing industry support are reconsidered taking into consideration possibilities of the budget.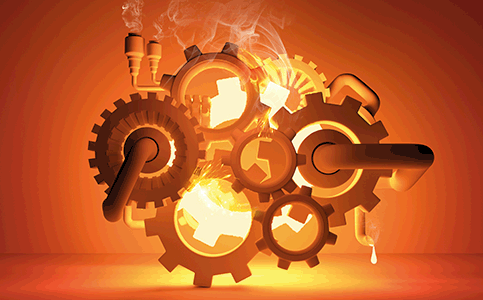 Starting we would like to remind you that the State Program for Industrial and Innovative Development is a logical continuation of the State Program for Accelerated Industrial and Innovative Development of Kazakhstan for 2010–2014. Moreover, a number of changes was introduced in the concept of the second five-year period taking into consideration mistakes of the previous stage.
First, focus of the state program narrowed to 14 priority sectors in 6 branches of processing industry. The group of the first priority includes oil processing and petrochemical industry, agricultural chemistry and food commodities production, as well as ferrous metallurgy. The group of the second priority includes construction materials production, non-ferrous metallurgy, production of chemicals for industry, manufacturing of agricultural equipment, motor transport, spare parts and motors for it. It also includes production of electrical equipment, railway equipment and machinery and equipment for mining, oil processing and oil production industries. Main selection criteria were availability of demand for the goods of the industry at the internal market, development of the sector, its contribution to employment and multiplicative effect for related sectors, as well as implementation of innovations.
Second, now budget funds are spent more efficiently. As estimated by the specially created working group of the Ministry of National Economy, for implementation of the State Program for Accelerated Industrial and Innovative Development 1,024 billion tenge were allocated in 2011, 842.2 billion tenge in 2012, 866.3 billion tenge in 2013. Thereat expenses directly related to implementation of industrial projects amounted to 162.4 billion tenge (16%), 99.5 billion tenge (12%) and 128.1 billion tenge (15%) correspondingly. It means that during first three years of industrial development more than 85% of expenses were spent for infrastructure and institutional support, which affected implementation of the program only indirectly.

Results of Correction of Errors
In 2015 under the new industrialisation program 200 billion tenge were spent, including 100 billion tenge allocated from the National Fund in December 2014. This money was mainly spent for financing of entrepreneurship entities of the processing industry.
Consequently last year 150 project amounting to 800 billion tenge were commissioned and 10 thousand permanent jobs were created. Thereat one fifth of the GDP's growth for 9 months of the year 2015 was obtained due to the enterprises included in the Industrialization Map.
Thus, production of domestic metal products increased by 14.4%. For example, only production of rebar amounted to 770 thousand tons, which is 30.5% more than in 2014. ArcelorMittal Temirtau JSC, Caspian Steel LLP, Evraz Caspian Steel LLP and Ferrum-Vtor LLP demonstrated production growth.
Refined copper production increased sharply by 33% from 294 thousand tons to 393 thousand tons. Here leaders in growth were Kazakhmys Corporation LLP, Kazzinc LLP, as well as KAZ Minerals PLC LLP, which reached the final stage in commissioning of its new projects – Bozshakol and Aktogay. Affined gold production was 31 tons that is 14.8% higher than in 2014.
Despite crisis period performance of almost all cement plants of Kazakhstan improved – their cumulative output increased by 5.5%: from 7.9 million tons to 8.6 million tons.
In the light industry project for the total amount above 6 billion tenge and creating 325 jobs were launched. They include Bal Textile LLP producing synthetic yarn, Alem BT LLP and CaspiyLanaAtyrau LLP producing finished textile and woolen goods, as well as Production Innovative Company UTARI Ltd LLP specializing on assembly of sewing equipment and making-up.
Product mix of Kazakhstan's processing companies continues to expand. Thus, in 2015 production of electric switch mechanisms, digital satellite receivers, ball plug valves, LED lamps, screw-type pumps, tractor of new type, municipal engineering, large-size drilling facilities, dry-type transformers was launched. Among main export items of domestic machine manufacturing, we can highlight cables, bearings, locos and condensers.
Labour productivity was set as one of the main success indicators of the State Program for Industrial and Innovative Development. During last three years it increased by 25.4% in non-ferrous industry, by 28,9% in food industry, by 0,7% in light industry, by 11.5% in electrical equipment production, by 95.5% in production of machinery and equipment for mining industry, by 13.7% in construction materials production. In general labour productivity in processing industry based on results of 9 months 2015 it increased by 1.4 times. Thereat real growth is recorded almost in all regions and leaders in this regard are companies of the Kyzylorda oblast (4.5-fold), the Atyrau oblast (3.4-fold) and the Karaganda oblast (2.1-fold).
Within the framework of the anti-crisis measures, the government was actively supporting particular companies. According to the Ministry of Investment and Development under the State Program 82 companies were supported, including 25 in metallurgy industry, more than 27 in machine manufacturing, 20 in chemical industry and 12 in building industry. As a result of spot work with these companies the following issues were solved: issues with sale of products, increase of local content share in procurement of national holdings, subsoil users and backbone enterprises, reduction of transportation expenses, stimulation of products export by tax and custom means, provision of preferential rates for electric power and power transportation services. Thanks to the taken state support measures, it was possible to maintain production volumes and jobs.

Simple in Production and Innovations
At the same time, the economic situation in the country could not but affect industrialization performance. Thus, for example, due to fall in Russian rubble exchange rate in 2015 production output reduction by 29.6% was recorded in the machine manufacturing industry. Including 57.1% reduction in motor transport output, 54.4% reduction in production of other means of transport, 27.1% reduction in electrical equipment production. Output of finished metal goods, except for machinery and equipment, also reduced by 3.3%. Reduction is recorded in the companies producing railway equipment (by 88%), agricultural chemistry (by 48.1%), as well as in those producing machinery and equipment for mining industry (46.8%). Such a negative trend is caused by significant reduction in world market prices of oil and metal.
The Ministry of Investment and Development answering to our request noted that many projects faced financing issues particularly in conditions of tenge's exchange rate volatility. To support industry the government allocated funds through the DAMU Fund and the Kazakhstan Development Bank. But these measures do not always save. For example in December last year Almas Madiyev, head of the department of entrepreneurship and industrial and innovative development of the Zhambyl oblast, informed that many projects implemented under the Accelerated Industrial and Innovative Development program cannot achieve their designed capacity due to different reasons. Thus, Alkopischeprom LLP in the Merken region is idle because of lack of demand for their products. The Taraz pipe plant cannot find buyers for their goods neither. Among the companies having low performance he also highlighted Kulikov Milk Product LLP, Umit-Korday LLP, Vista International LLP and Central Asia Gold Production LLP in the Korday region, Talas Investment Company LLP in the Talas region, Kazphosphate LLP (hexametaphosphate and sulphur production), Energy-Taraz LLP, Kurylys Polymer LLP, Ta-Mak LLP, Karat-V LLP, Araystroymarket-2030 LLP, Taraz Metallurgical Plant LLP, Zapchast JSC and POSh-Taraz LLP. In total according to the department of national revenue, in the Zhambyl oblast 29 companies are at the bankruptcy stage with total accounts payable amounting to 3,648 million tenge. They include four entities with high level of risk indexes in regards of signs of premeditated and false bankruptcy.
However, according to the Ministry of Investment and development low production performance of some companies is normal in market conditions. "During the first five-year period the government had to undertake part of responsibility for projects implementation." The reply to our request says. "But it cannot be a project manager bearing all commercial risks. It is the task of entrepreneurs and investors. The government shall be in charge of industrial policy, namely in charge of creation of conditions for implementation of these projects in order to help investors to accept risks." According to the same Ministry of Investment and Development in total during 6 years of industrialisation 890 projects amounting to 3.8 trillion tenge were implemented, 85 thousand permanent jobs were created. As of today 90% of these companies operate steadily and only 21 are idle.
It is not only industrial but also innovative development that is "limping". In December last year implementation of the Technologies commercialisation program was completed, in result of which 65 companies were financed. Daniyar Daskarayev, director of the management group of the project, noted that more than a half of participants are ready so sell their innovative products. And yet in January this year during working visit to Almaty Dariga Nazarbayeva, vice minister, stated that production commercialisation's level is not sufficient, that Kazakhstan people do not know to promote their goods at internal and external markets.
No matter how it was but this year the process of technologies commercialisation will continue, however under different program. 10 billion tenge were planned to be allocated for science development and manpower training for entities of the State Program for the Accelerated Industrial and Innovative Development. These funds shall be issued on a grant basis through the Technology Commercialisation Center to the scientists and developers that will prove that they are ready to create their innovative company.
Revision will Tell
Meanwhile this year the industrialisation program will be adjusted once more. This was the instruction of the Head of State in December last year during the national tele-bridge devoted to intermediate results of the State program for Industrial and Innovative Development. "It is important to update the State program for Industrial and Innovative Development under conditions of changed global and internal trends," Nursultan Nazarbayev stated and offered to focus on three main indexes: labour productivity, volume of export and investments attraction. It is these indexes that will be the main criteria for evaluation of work of sectional ministries and departments.
Besides, according to the President it is necessary to take all efforts to shift to service-industrial model of economy in case of which high-quality development shall be obtained by related sectors – professional services, engineering, high-technological service logistics.
Commenting instructions of the Head of State in January this year representative of the management of the Atameken National Chamber of Entrepreneurs – Abylay Myrzakhmetov – noted that principally important point of the second five-year period is the fact that it will have two levels: republican and regional ones. At the republican level the Ministry of Investment and Development together with the National Chamber will monitor the most important projects in sectors. And regions will be fully under the supervision of the National Chamber of Entrepreneurs and local executive authorities. "We want the regions to strictly follow their specialisation based on real factors, markets and history. The key factor for local authorities is work on improvement of business climate, removal of barriers and creation of clear conditions for business".
Karim Oshakbayev, vice minister on investment and development of the Republic of Kazakhstan, in his turn informed that this year primarily the format of the program itself will be changed: "We intend to make it in a form of so-called "White paper", which implies absolute legibility and transparance for all users, for entities of sectors, regions and for experts. Second, notwithstanding the fact that the set task is to shift to the service-industrial model the minister suggested to decompose this task into different state programs. In the State program for Industrial and Innovative Development we plan to focus in processing industry, and correspondingly service part, share of which is growing – more than 50% of our GDP, will be covered by other programs, including the state program of service sector development."
Furthermore, the Ministry of Investment and Development suggest to principally stop providing direct support to sectors and companies: "During last five years only we increase cost part of our budget almost by 80%. We could afford to make direct investments in some sectors or others or even in particular projects. Now we do not have such budget opportunities and what is the most important analysis shows that such approach is not very efficient."
Thus, soon the government of Kazakhstan will complete revision of the State program for Industrial and Innovative Development and will reconsider measures for support of processing industry."It is clear that our plans, which we set two-three years ago, were more ambitious and desired but now we match our plans with the money that we have from the republican budget and the transfers from the National Bank," Erbolat Dosayev, minister of national economy, told.He explained that taking into consideration trends in the economy a new plan of social and economic development of the country for 2016 will be approved. Settlement rate will change from 300 to 360 tenge, average annual oil price will be changed in accordance with the forecasts of international financial institutions, investment banks – from $40 to $30 per barrel.
Thus, we have to state that government financing of new companies of the processing industry will most likely be reduced. And it means that our businessmen shall rely only on their own resources and survival skills during the crisis.
Rimma Ivakhnikova